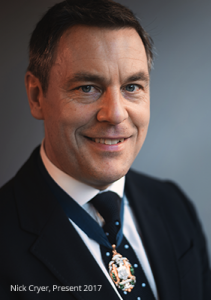 Dear Friends
Since taking office I have been privileged to meet many inspiring older people and exceptionally dedicated volunteers, who devote extraordinary amounts of their own time towards improving the well being and independence of older people.
Issues confronting older people in our city and surrounding areas are becoming more and more prevalent. The number of older people in the UK aged over 85 has increased by 30% over the last decade, and this is predicted to more than double over the next two decades. Research confirms there are nearly 1.2 million older people who do not receive the help they need with essential daily living activities. This figure is up 17.9% on 2016.
The Grateful Society is a Bristol charity now in its 259th year and our 2017 appeal comes at a time when Social Services budget cuts are most pervasive. Whilst the economy has shown glimmers of recovery, the fact remains that it will be some time before any reversal of cuts are likely. Our ability to continue providing this critical support is dependent on our President's Annual Appeal, which relies on help from the community now more than ever. It would mean so much to me if you were able to support my Appeal which, by tradition, closes on 13th November.
What we've been up to
Find out more about how we've been making a difference.
Trinity Dementia Centre
We offer a day of activity, music, fun and stimulation in a relaxing, supportive environment for people living with dementia.
Over 55's Club
The over 55's club brings interactive and engaging activites to the older community. These activities can vary from dancing lessons, to arts & crafts.
Tithe Barn Dementia Trust
We provide vital support to maintain the ongoing Dementia Trust meetings, that would have otherwise foreclosed.
View all Organisations
Grateful, Anchor and Dolphin Societies
With a long history dating back to the 1700s, the Grateful, Anchor and Dolphin Societies are probably the city's oldest, continually active philanthropic organisations. Originally founded by people in Bristol who were keen to replicate the financial support shown by Bristol-born Edward Colston in the 1600s, the three Societies today focus their efforts on the city's elderly population with a major fund-raising initiative in early November involving the President of each Society writing many hundreds of personal letters to potential donors. This usually provides over £250,000 per annum for initiatives and individuals in need across the city.
Find Out More